| | | |
| --- | --- | --- |
| | History | |
TRichView News: 2004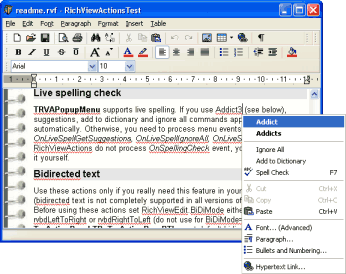 August 17, 2004
TRichView 1.9
Download updated trials, demo projects and documentation.
This update includes two of the most often requested features:
Some other new features:
ability to show non-printing characters (spaces, tabs, line breaks, etc.)
keep-with-next and keep-lines-together paragraph printing options
top/bottom/center alignment for document in window
hints for items, alternative text for images
Demo projects include new and updated applications: autocomplete demo, using DBGrid for editing RichView fields, URL detection on typing, emoticons detection on typing.
This update is free for registered users, as usual.
---
August 17, 2004
RichViewActions (components and actions for creating user interface for editor) are updated and include support for new features of v1.9 as well as interface improvements:
tab stops management in the dialog for paragraph properties and ruler (see screenshot to the right)
paragraph printing options
live spelling support
new table insertion gadget
options for displaying nonprinting characters
alternative text for images
URL detection on typing
New localizations are added.
---
August 6, 2004
Update in resources for TRichView: Gnostice eDocEngine converts TRichView documents to PDF, HTML, Image, SVG and other formats.
You can download

compiled demo showing how eDocEngine works with TRichView (823K) and visit eDocEngine home page
Special offer (updated September, 3): Registered TRichView users can apply 15% discount ordering Gnostice eDocEngine.
Information about the discount code is available in the newsgroups for registered users or can be requested by e-mail.
---
February 10, 2004

RichViewActions (components and actions for creating user interface for editor) are updated.
This update includes:
horizontal ruler (thanks to Pieter Zijlstra);
ability to download images using Indy components;
support for custom file formats.
---
February 8, 2004
RvHtmlImporter is updated.
---
January 3, 2004
Resources for TRichView are updated:
support for LS Speller by Luzius Schneider
Total Commander plugin for viewing RVF files (native TRichView format)
TRichViewPDF by Roledata, Inc.
---
Site News: 2004
---
August 25, 2004
More applications use our components:


E.S.T. Help Author Pro, help authoring tool by Maxcomponents.

(May 29, 2005: the second application is removed on the author request)
---
August 16, 2004

One more application uses our components – EJournal, personal journaling software program by Jorizon.