| | | |
| --- | --- | --- |
| | History | |
TRichView News: 2003
October 24, 2003
TRichView 1.8
The main new feature: drag&drop!
You can drag data not only within an application, but also between applications.
TRichViewEdit accepts plain or rich text, images, hyperlinks, files (more information).
Download trial versions and demos.
---
October 24, 2003
Starting from today, all registered users of TRichView can register all GlyFX products (toolbar images, animations, website templates) with 25% discount.
Download a demo of TRichView editor with GlyFX images(865K)
---
October 15, 2003 Information about wrapper for ReportBuilder is updated.
The last version of this wrapper supports of Export Devices and TExtraDevices.
---
September 14, 2003
---
August 18, 2003 – parser for ASpell is updated.
---
May 26, 2003 – the update of RichViewActions (user interface for TRichViewEdit):
new page-setup dialog
new localizations (Dutch, Persian, Slovak)
---
May 16, 2003 – Support for 4 third-party spell-checkers:
Parsers for these spell-checkers and for spell-checker by Addictive Software
---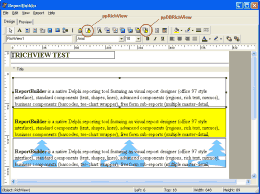 April 5, 2003 – Wrapper for ReportBuilder by Digital Metaphors allows inserting RichView objects in reports.
Documents can be loaded from file or from database.
More information and download links
---
Mar 31, 2003 – Update – TRichView v1.7.10 is available for downloading.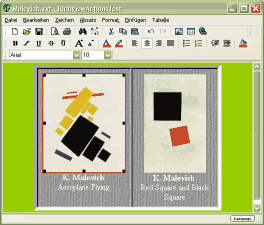 New features:
resizing of images and controls
background images for tables and table cells
RichViewActions (a set of components and actions for creating user interface for TRichViewEdit) are updated as well.
The main new feature: localization.
Supported languages:
English (US)
French
German
Italian
Norwegian
Russian
Swedish
See RichViewActions page for instructions how to add a new translation.
---
Site News: 2003
---
October 11, 2002 – Two more applications created with our components:


ECTool by Andres Valverde (Utility for playing correspondence or email chess) and


Rolehelp by Roledata, Inc. (Help authoring tool).
---

Mar 22, 2003 – One more application created with our components – e-mail client Munite (by Munite).