← 2013
2014
2015 →
| | | |
| --- | --- | --- |
| | History | |
TRichView and ScaleRichView News: 2014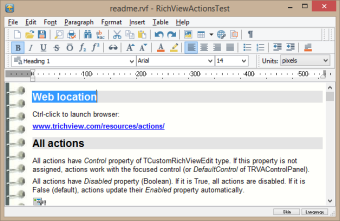 December 23, 2014:
New icon set for toolbars and ribbons
We are happy to present a new set of toolbar images for a rich text editor / word processor UI. The set includes original 32x32 and 16x16 icons inspired by Microsoft Word 2013.
This is the second icon set we offer to our customers. Our icons are free for registered users of TRichView or RVMedia.
September 10, 2014:
Delphi and C++Builder XE7
TRichView, RichViewActions, ScaleRichView and related components support RAD Studio XE7.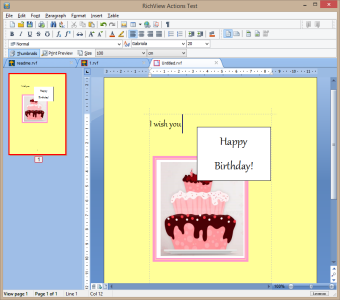 August 24, 2014:
TRichView 15, ScaleRichView 6 are released
Changes since the last public update:
floating text boxes; their features:

placement above or below the text
alignment to a line, a paragraph, a main text area, margins, a page, a table cell
relative or absolute position and size
customizable border and background
in TRichView: text boxes are visible only on printing and previewing; in ScaleRichView: text boxes can be edited directly in the editor in WYSIWYG mode
export to RTF and DocX

"sidenotes" – numbered notes inside text boxes
"page number" and "page count" fields; they can be inserted in the main document, headers and footers, notes and text boxes (screenshot)
special headers and footers for the first page and odd/even pages (previously, they will be implemented in TRichView; now, they are supported in ScaleRichView as well)
faster formatting and pagination
The complete lists of changes (since TRichView 14.0, ScaleRichView 5.0):
Trial versions are updated.
See also information about the release of RichViewActions 5 (below)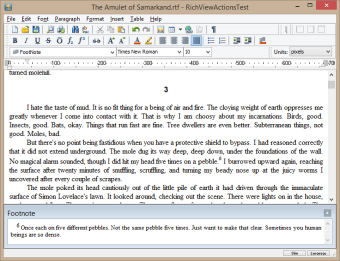 August 24, 2014:
RichViewActions 5 is released
Changes since the last public update:
new actions:

for inserting footnotes, endnotes, sidenotes, text boxes; a new action for editing notes and text boxes; a complete user interface for notes and text boxes is available not only for ScaleRichView, but for TRichView too
for inserting a number from a named sequence (screenshot)
for inserting a caption for an image or a table (screenshot)
for inserting a page number

changes in an object properties dialog:

properties for text boxes (screenshot), numbered sequences and page numbers (screenshot),
redesigned property pages for tables (screenshot) and images (allowing to edit more properties)

new language for user interface: Danish; it's the 31st translation of RichViewActions interface
new pseudo-language for user interface: "Resource language" (messages for this language are stored in resources; it allows using external localization tools instead of default RichViewActions translation code
Full source code is available for downloading.
April 29, 2014: TRichView, RichViewActions, ScaleRichView and related components support RAD Studio XE6.
A new version supporting Delphi and C++Builder XE6 is available for registered users.
November 8, 2014:
We have updated RVMedia to version 2.1.
Changes:
improved IP camera detection: more camera models are supported;
more video file formats are supported with GStreamer;
multi-monitor support (when a desktop is used as a video source);
unique identifiers of local web cameras are available as properties.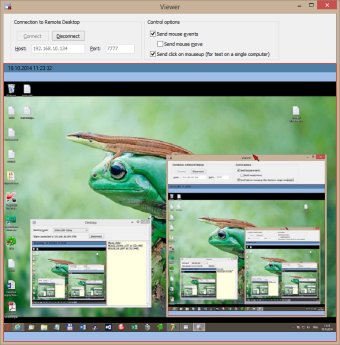 October 18, 2014:
We have released RVMedia 2.0.
In addition to new features, we also cleaned up the code, so the new version is stable and faster.
Changes:
parallel receiving, decoding and showing videos in TRVCamera and TRVCamReceiver components; it allows to use multiprocessor computers efficiently and to eliminate accumulation of delays;
improved working with audio data:

customizing quality of sound from microphones (audio buffer size, sample rate, bit depth);
sending sound from wav files to the network;
mixing sound from multiple sources on a receiving side;

fast detection of changed areas in video frames;
improved GStreamer support:

video formats (Mjpeg, H.264, Mpeg-4) and protocols (HTTP, RTSP) are specified separately, all combinations are possible;
GStreamer parameters can be configured using TRVCamera component;

localization (English, German, Portuguese, Russian, and Spanish languages);
compatibility with 64-bit compilers;
compatibility with RAD Studio XE7.
View the full list of new features.
We added new demo projects:
how to implement a remote desktop control;
how to implement an authorization on a media server;
for testing GStreamer support.
Resources for RVMedia:
May 5, 2014: RVMedia 1.1 is released.
Main changes:
compatibility with RAD Studio XE6 (32-bit VCL);
ability to play H.264 via RTSP and MPEG-4 via HTTP using GStreamer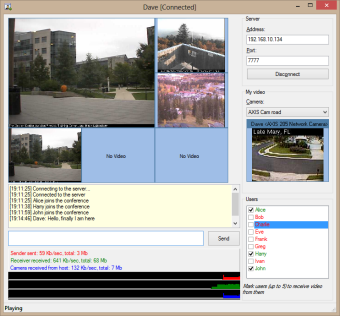 February 20, 2014: RVMedia 1.0 is released.
RVMedia is a new set of components for working with local cameras and IP-cameras, configuring IP cameras, controlling their rotation, reading sound from a microphone, sending media data via the Internet, making video chats (either consisting of directly connected clients, or using a media server).
Additional information:
← 2013
2014
2015 →