September 8, 2016:
Report Workshop 1.0 has been released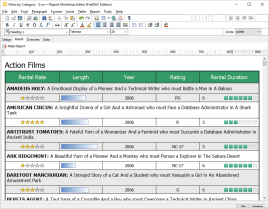 We are happy to announce Report Workshop, new reporting components for Delphi and C++Builder.
The new components are useful for everyone who wants to display data in a clean, professional-looking and attractive way.
In Report Workshop, you can design and build reports directly in our editing components. Both report templates and report results are word processing documents, so you can print them, export to PDF (using third-party libraries), HTML, DocX, RTF, apply styles to change their appearance, or edit them.
Report Workshop includes data provider components working with standard Delphi components (FireDAC, MongoDB, InterBase Express, dbExpress, ADO/dbGo, BDE) and popular third-party components (DevArt's UniDAC and other DACs, MicroOLAP's DACs, AbsoluteDB, ElevateDB, DBISAM, NexusDB), and a universal data provider component. They work out of the box: the Setup installs everything automatically, if it is possible.
Users do not need to study complex scripting languages to make report: Report Workshop includes actions implementing user interface for report designing. Also, it's simple to make reports in code.
Additional information about ReportWorkshop:

A compiled demo is included in the set of TRichView demos, or you can download it separately.
Additional information about this release can be found on the support forum: