| | | |
| --- | --- | --- |
| | Our Products | |
Components for Delphi, C++Builder, Lazarus
Download trial versions TRichView demos RVMedia demos
News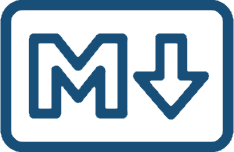 July 23, 2020:
Changes:
* export to *Markdown* format
* specifying the target DPI for drawing documents to canvases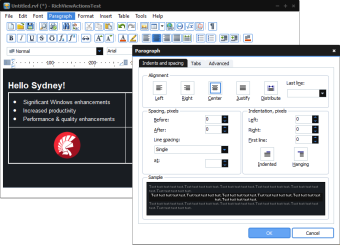 May 29, 2020:
All our components are compatible with Delphi and C++Builder 10.4 Sydney.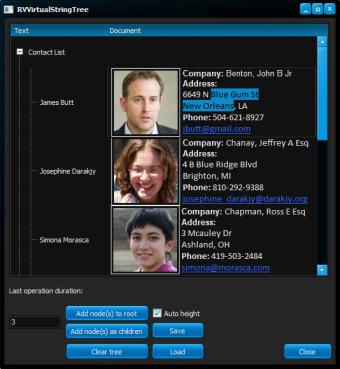 May 14, 2020:
VirtualTree support
Since this update, TRichView editor can be used in Virtual TreeView to implement rich text columns.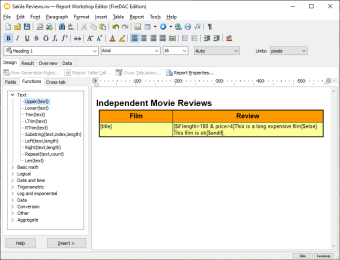 May 3, 2020:
In this update, we added expressions to report templates. Expressions are calculated on numeric, text, logical, and date-time values (from databases and report variables).
Results of expressions can be inserted in reports as a text, visualized as diagrams, or used as conditions in $if-commands.
RVMedia 7.3 has been released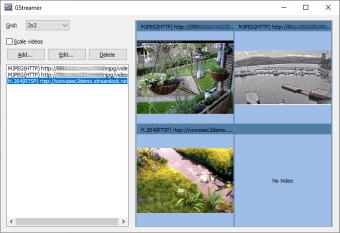 April 2, 2020:
Since this version, RVMedia can use GStreamer 1.0 to display video.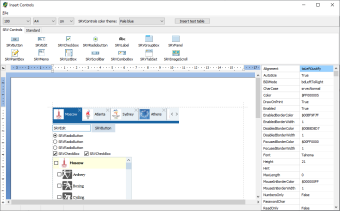 March 19, 2020:
In this update, SRVControls (controls for insertion in a WYSIWYG editor) are ported to Lazarus (Windows platform).
RVMedia 7.2 has been released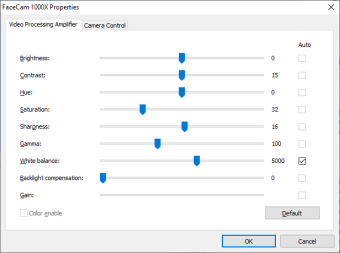 February 4, 2020:
Changes:
new component for editing properties of local web cameras
controlling rotation and color properties of local web cameras
supporting more video modes of local web cameras
improved HTTP authentication, new login dialog (screenshot)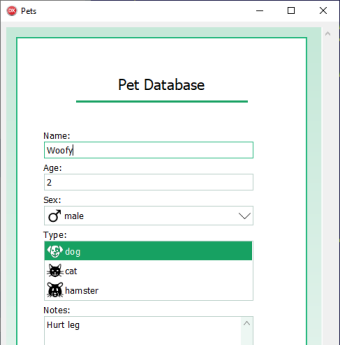 December 10, 2019:
Main changes:
new component: TRVDataSourceLink. It connects data-aware controls inside TRichView and ScaleRichView editors to a data source;
new data-aware SRVControls (controls for insertion in a WYSIWYG editor):

TSRVDBEdit
TSRVDBMemo
TSRVDBCheckBox
TSRVDBListBox
TSRVDBComboBox
TSRVDBText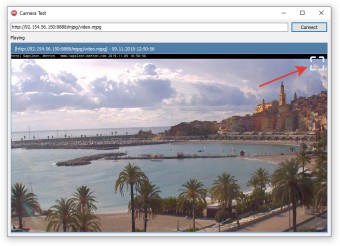 RVMedia 7.1 has been released
November 9, 2019:
Main changes since version 7.0:
full screen mode
resizing video windows together with their parent multi-viewer component
proxy server settings
September 27, 2019: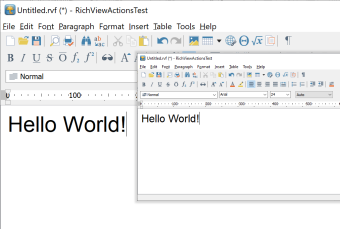 Main changes since TRichView 17.6:
High DPI support;
Per monitor v2 DPI awareness in RAD Studio 10.3;
Lazarus 2 support, including special support for multiple-resolution TImageList;
Zooming in TRichView and TRichViewEdit;
Import, export, printing – independent of screen DPI;
New demo projects using multiple-resolution image lists for Delphi and C++Builder 10.3 and Lazarus 2;
New internal measure units (in addition to pixels and twips): EMU (English Metric Units), to represent fractional inches and millimeters
Measuring sizes in logical pixels instead of physical screen pixels; since this version, sizes measured in pixels as DPI-independent as measured in twips or EMU;
New appearance of SRVControls (controls designed for insertion in our WYSIWYG editor): smooth antialiased drawing and color themes;
Bi-directional text support in SRVControls;
Improved grid animation.
The complete lists of changes since TRichView v17.0:
August 26, 2019:
RVMedia 7 has been released
Main changes since version 6.1:
FireMonkey version (Windows 32-bit and 64-bit platforms)
Lazarus 2 support
new alternative animation for camera searching (screenshot)
improved efficiency and stability
December 5, 2018: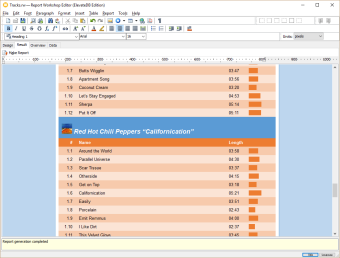 All our components are compatible with Delphi and C++Builder 10.3 Rio.
Additional changes in Report Workshop:
new field types for integer values representing time intervals
a report editor demo for ElevateDB
Additional changes in RVMedia:
synchronizing sound and video in chats
Additional information about this release can be found on the support forum: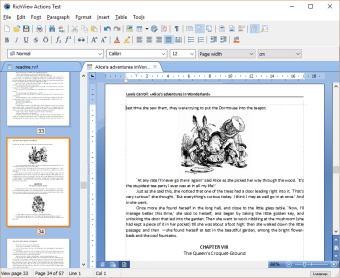 November 5, 2018:
ScaleRichView 8.4 is compatible with Lazarus (Free Pascal). It can be used in 32-bit and 64-bit Windows LCL framework.
October 8, 2018:
RVMedia 6 has been released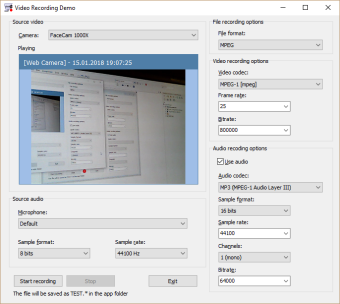 Main changes since version 5:
video and audio recording (using new TRVCamRecorder and TRVAudioPlayer components) with use of FFmpeg; you can create MPEG, MP4, 3GP, AVI, MOV, MJPEG, FLV, RM video files, WAV, MP2, MP3, AC3, OGG, FLAC, Opus, WMA, M4A, RA, SPX, WV, AMR audio files in your Delphi or Lazarus application;
playing sounds on the specified audio device (using TRVAudioPlayer component);
ability to have more than one video- and audio- sources in each client of a TRVMediaServer;
much better processing of sound received by TRVCamReceiver;
support for FFmpeg versions from 2 to (newest) 4; FFmpeg version is auto-detected;
new video mode for TRVCamera: using user-supplied images as video frames.
Our Components on The Web